Auf den Spuren von Ernest Hemingway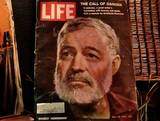 Besucher von Key West wandeln automatisch auch auf den Spuren von Ernest Hemingway. Der Schriftsteller und Lebemann verbrachte mehrere Winter in Key West und schrieb dort auch einige seiner Bestseller.
In seiner Zeit auf Key West schrieb Ernest Hemingway unter anderem den Roman To Have and Have Not (Deutsch: Haben und Nichthaben), welcher 1955 unter der Regie von Howard Hawks mit Humphrey Bogart und Lauren Bacall in den Hauptrollen verfilmt wurde.
Hemingway konzentrierte sich in Key West nicht nur auf das Schreiben sondern genoss auch das Leben in vollen Zügen. So verbrachte er viel Zeit in den diversen Bars von Key West, die bekannteste gibt es noch heute: Sloppy Joe's Bar auf der Duvalstreet. Allerdings befand sich Sloppy Joe's Bar zu Hemingways Zeiten zwischen 1933 und 1937 noch nicht an der heutigen Stelle auf der Duval Street, sondern in der angrenzenden Green Street. Die Bar in der Green Street ist heute bekannt als Captain Tony's Saloon. Grund für den Umzug von Sloppy Joe's Bar auf die Duval Street war eine Mieterhöhung im Jahr 1938 um einen Dollar pro Woche.
Einmal jährlich im Juli wird auf Key West im Rahmen des "Hemingway Look-Alike"-Contest der Teilnehmer mit der größten Ähnlichkeit zu Ernest Hemingway gewählt.
Wer der Geschichte von Ernest Hemingway noch näher kommen möchte, kann in der Whitehead Street sein ehemaliges Wohnhaus besuchen, welches inzwischen in ein kleines Museum umgewandelt wurde. Das Haus zeigt sich wie einst, selbst die vielen Katzen erinnern an die Zeit in der Hemingway hier noch mit seiner 2. Ehefrau Pauline lebte und seine Bücher schrieb.
Adresse:
The Ernest Hemingway Home & Museum
907 Whitehead St. Key West, FL 33040
Tel: 305-294-1136
Website: www.hemingwayhome.com