Florida Vacation Rentals | Welcome to the Sunshine State!
Are you looking for the perfect Florida vacation rental? Then you have come to the right place!
Finding the perfect Florida vacation home is easy.
Are you looking for a vacation rental in a particular area? For an interactive map with the location of all properties, click on the picture above.
Lots of sun, miles of beaches and fantastic sunsets – Florida has everything you need for an unforgettable vacation.
The top vacation rental regions in Florida
Away from the tourist metropolises
If you are looking for a vacation home away from the hustle and bustle or want to rent a vacation home by the sea, we can recommend Anna Maria Island. Enjoy the peace and serenity in which life is enjoyed here. From your holiday home on the dream island Anna Maria Island it is only a few meters to the beach. Experience unforgettable sunsets on the Gulf of Mexico and enjoy the "Endless Summer" in the Sunshine State.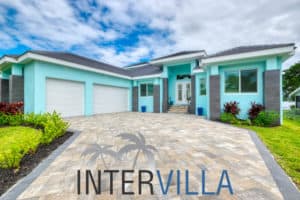 Venice of America and Boaters Paradise
Most of the holiday homes can be found in Cape Coral in southwest Florida. Here you will find the dream home for your Florida vacation from a selection of over 250 holiday homes and villas. Visit the Boater Paradise on the Gulf of Mexico. Most of the vacation homes in Cape Coral are right on the water. Enjoy the view of a lake or one of the many canals of Cape Coral – the Venice of America. Many of the vacation homes in Florida have their own boat dock with tiki hats.
The crown jewel on the Gulf Coast
Rent a vacation home in Naples and enjoy the beautiful white sandy beaches with the famous Naples Pier or visit the elegant 5th Avenue with its exclusive shops and restaurants. Experience the old Naples in the southern part of Naples. Here are the most beautiful and largest villas in the Sunshine State. From Naples you can reach Marco Island and the Everglades after only a short drive, here you can experience the nature of Florida particularly impressive.
Recently listet Vacation homes